How to Write a Job Description
---
---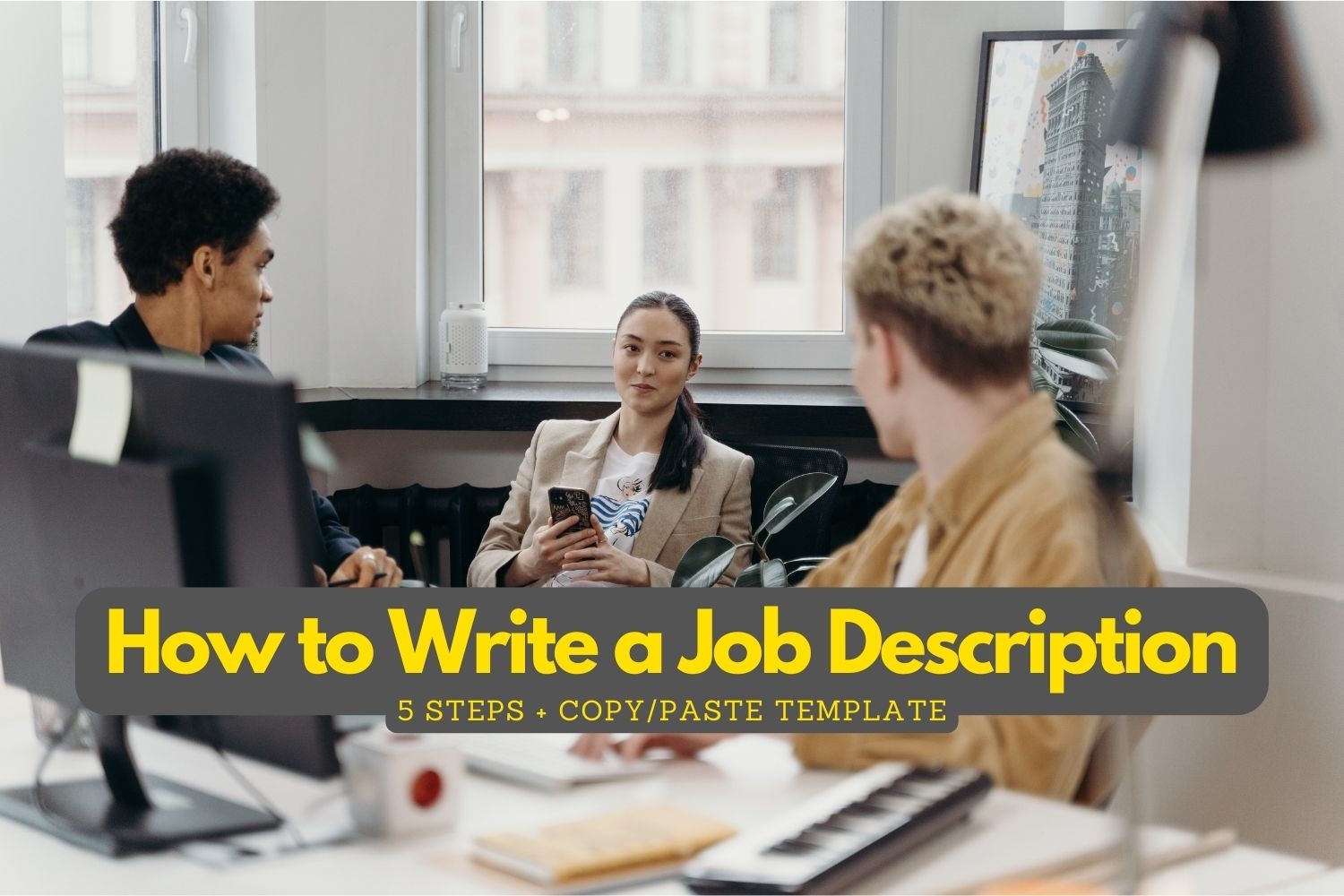 A clear job description is an important part of every position. Potential employees want a clear picture of the position before applying, to be sure the job is the right fit for them. Current employees want a clear picture of the work they've been hired to complete. Employers need a place to outline their expectations for the job and for work performance.
Job descriptions are a critical employment road map and easy to prepare, yet they are often left until there is an immediate hiring need before they are updated. Why? Because job descriptions need to include a lot of information and it can feel completely overwhelming to write. Let's solve that with a 5-step process, and copy/paste template, to get started.
Start by brainstorming.
Start with a blank word processing document or go old-school and use a pen and paper. Brainstorm and write down every single task that come to mind, for which the job is responsible. Don't bother sorting the list, focus more on getting it all down on 'paper'.
Try to include every task from the very important to the smaller details. If writing reports is part of the job, write it on the list. Usually staying on budget and on time is required, so, write that down if it will be required. Public speaking or major event planning would be a big expectation, write down all those details.
Talk to the employees who are doing the job now. Ask them all the things they do in their job. Ask them to identify the parts of the job they love and do well, and the parts of the job they dislike or do poorly. Talking with existing employees will help identify gaps in the existing job description and other tasks a supervisor might miss.
Sort into 4-6 key responsibility groupings, then fine tune.
Take all the tasks and information collected and begin to sort into key responsibility groupings. For example, tasks like accounting would go into one group and tasks like event planning would go into another group. Aim for 4-6 groupings.
NOTE: Sort knowledge, skills, and attributes into their own separate groups, not included in the 4-6 key responsibility groups. We'll get to that in a bit.
Once the groupings are identified, begin to remove duplicates. Duplicates might not be obvious at first but keep reviewing until each grouping is down to 5-8 tasks. It is easiest to work in bullet point form at this step.
Fine tune each grouping by re-writing each task as a sentence. Sentence structure will act as a final sorting and proofing tool, to identify tasks that are in the wrong grouping. Once finished, give each grouping a summary title of no more that 6 words. Remember, this is a title, not an explanation.
Assign percentages.
Think about the amount of time an employee will spend doing each of the 4-6 Key Responsibility groupings. Assign a percentage of work time to each of those areas, so that they accurately represent the amount of time an employee will spend doing that sort of work. These percentages are the boss's way of ensuring an employee is balancing their time correctly.
For example, an employee may spend 30% on accounting but only 10% on public relations. Alternately, a differently employee may spend 50% planning and running workshops and 25% writing reports.
Juggle the math for each of the 4-6 Key Responsibility groupings until they all total 100%.
Why is this important? An employer may see a specific key responsibility area as being significantly important to the position and may want the employee to spend most of their time on that set of tasks. An employee needs to understand those expectations. Job seekers need these details as well, so they don't apply for a job thinking they will be doing one thing and find out later they will be doing something else. The job description is an opportunity for clarity.
Write key job description pieces.
OPENING PARAGRAPH
The opening paragraph is an opportunity to describe the organization. Use everyday words to briefly explain what work the organization does and the types of clients it serves. Provide a one-sentence example or two if it will help clarify. Use very short sentences to a maximum of 4 sentences total.
This section makes an excellent job advertisement. If short enough, it can be quite affordable. Job seekers will read the title of the job opening then read the description about the organization. They will be able to decide almost immediately if they want to know more and can follow the link to a full job description posted on a web site.
WORKING CONDITIONS
List any specific details as they relate to the physical or mental conditions for the job. These might include working evenings/weekends, being expected to travel, having access to a vehicle to use for work purposes, required work location, or even requiring a criminal records check.
KNOWLEDGE
When working on Key Responsibility areas, it is common for a separate list to develop for the knowledge a potential employee must have. Take those details and put them into a bullet-point list. To help complete this section, consider what the employee must know how to do. The answers will fill in this section. Some examples might include knowing how to operate a computer and specific software, or knowledge of your industry or field.
SKILLS and ABILITIES
Break these into two lists if it becomes too long. For Skills, complete this sentence to create the list, I want the employee to be skilled at … Some examples of Skills might include being skilled at research or thinking strategically.
For Abilities, complete this sentence to create the list, I want the employee to have the ability to … Some examples of Abilities might include having the ability to work under pressure or speak respectfully to clients.
ATTRIBUTES
The Attributes section of the job description is an opportunity to list the personal characteristics an employer would like in an employee. If the job requires an employee to work with the public, then list attributes such as a positive, friendly attitude, or someone who is outgoing. If the job requires the employee to handle a large volume of filing, then list attributes like being well organized and tidy. Pick the Attributes that best fit the job, the work, and the type of employee needed.
Write the full Job Description document. Use this template.
Creating all the lists and details isn't enough to finish a job description. Everything needs to be put together in one cohesive document. Here's a format you can copy/paste to use today.
On letterhead

The document title at the top of the page: Job Description for: [insert job title]

Opening paragraph

Use the paragraph written earlier to set the stage for working with the organization.

Work location
Experience level

One sentence.
Minimum number of years or related work experience.

Education

One sentence.
Formal education required.

Wage, or Wage Range

Being open with the wage range will help to filter out applicants looking for a higher salary.
It is considered standard practice to include the wage rage.

Term

Permanent or temporary.
Number of hours per week.
End date, if applicable.

Benefits

Health, dental, pension, as applicable.
Including benefits is a great way to attract applicants who might not otherwise be interested in the position (e.g., allowing home offices).

Key Responsibility Areas

Use the lists written earlier.
Include the percentages beside each grouping title.

Working Conditions

Use the list written earlier.

Knowledge

Use the list written earlier.

Skills and Abilities

Use the list written earlier.

Attributes

Use the list written earlier.

Closing
End the job description with the organization's inclusion or hiring statement.
Keep the finished Job Description on file to use when needed.
Imagine its time to hire a new employee. No more fussing around updating job descriptions, it is already done. No more awkward wording of job posting advertisements, the wording is already written. Simply pull out the job description created months prior. Easily drop the details into an advertisement and the full job description online. Now, the hiring process doesn't need to take so much time away from day-to-day operations.
Set aside time to check current job descriptions.
How can a non-profit leader put these ideas into action right now?
Start small. Ask current employees about all the things they do in their job; good/bad, love/hate, like/dislike.
Take the answers and compare against the existing job description.
Re-write sections as needed.
Finalize and file the finished job description for future use.
When a non profit wants to clearly capture the full scope of a position, a job description created using this template will easily serve as a source for hiring advertisements and create clear expectations for work performance.
Thanks for taking the time to read my ideas. If you know someone who needs to read this, why not grab the link, and share it with them. Let's work together to make job descriptions clear and useable.
-Christie
…
Hi, I'm Christie Saas, former board member, current Executive Director, and non-profit volunteer. I remember well, those early years when I lacked the training, the confidence, and the work-life balance to focus on becoming the best non-profit leader I could be.
Fast-forward past many bumps in the road, lessons learned, and you'll find me still in the trenches, but a little wiser, a little calmer, and a whole lot happier. I love my work and I want to help you love yours too.
I created ChristieSaas.com so non-profit leaders never need to feel alone. I'm here to help. If you're a brand-new non-profit leader, or a little more seasoned, someone who's looking to make a meaningful contribution and still have time for a full life away from the job, you're in the right place.
© Christie Saas 2022 All Rights Reserved
…
Want to learn more?
Start with one of my free resources.
---