Is your non-profit incorporated? (and why does it matter)
---
---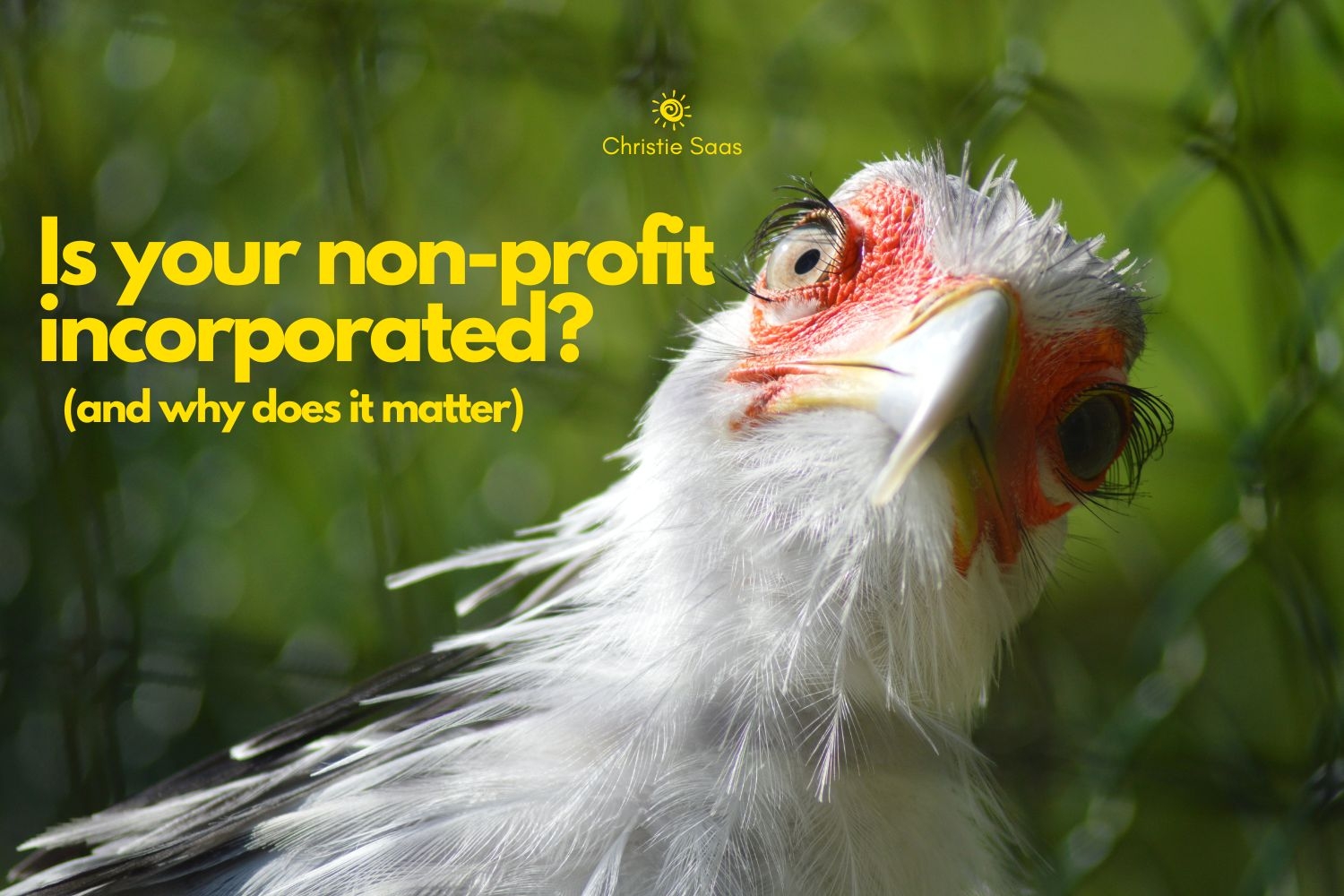 Non-profit leaders, be it board members or the executive director, need to have a firm understanding of 4 key documents a non-profit uses for legal status, governance, and operations. Becoming familiar with these documents is not simply an orientation tool, rather, it is a critical step to help staff and volunteers understand their legal obligations to the organization.
This post kicks off a 4-part series to walk through Articles of Incorporation, Bylaws, Governing Policies, and Operational Policies. I know what you are thinking as you read this: boring! But before you dismiss these documents as merely administrative details, take a minute to consider the legal protection these documents provide to non-profit staff and volunteers.
Articles of Incorporation.
Non-profits come in all shapes and sizes. Some are registered provincially, some federally, and some (and this surprises me) are not registered at all. When a non-profit is first created, if it wants to be considered a legal entity, it goes through the incorporation process and put together its Articles of Incorporation.
Are you legally registered?
Spoiler alert, the information provided for the Articles of Incorporation is not particularly exciting. Depending on the jurisdiction where the non-profit registers, the Articles might include details such as the official name of the non-profit, its purpose, the type of non-profit, the names of initial board members, membership details, and the fiscal year end, etc.
While the information contained in the Articles of Incorporation is a great reference for anyone to learn more about the non-profit, it is the very presence of the Articles themselves that is the critical factor.
Red flags.
A non-profit that IS incorporated becomes a legal entity. It operates under its own name and the personal liability of staff and board members is limited. This provides some peace of mind if legal matters arise. A bonus is that incorporation gives the non-profit a level of legal credential that is likely needed to apply for lottery licenses and qualify for grants – two of the major sources for non-profit funding.
A non-profit that is NOT incorporated has no legal status. Its members and board are responsible for any debts the of the organization and can be personally sued if the non-profit gets into trouble. Without the legal status of incorporation, a non-profit like this will rarely qualify for funding programs.
If a new board member or new executive director simply presumed the non-profit was incorporated when they joined the team, the lack of certainty should be considered a red flag. What level of legal identity does your non-profit have, and how protected are you?
Homework: Due NOW.
The first step for an executive director or board member to determine their personal risk when linked to a non-profit is to do a little investigation.
Find out if your non-profit is incorporated, if so, in what year, and if incorporation status is in good standing. DO THIS>> Ask to see the most RECENT annual return to the provincial or federal regulatory body.
Find out the name of the provincial or federal regulatory agency where your non-profit is registered. DO THIS>> Take note of the name of the regulatory agency and visit their website to learn a bit about them.
Review the non-profit Act for your area and learn your personal liability as an executive director or board member. DO THIS>> Search online until you find the relevant Act, likely while you are completing step 2. Print out and read the WHOLE document, highlighting areas that directly pertain to the type of non-profit you are working or volunteering with.
Once completed, an executive director or board member will have a much better understanding of their personal risk and can determine if changes are needed.
Is it good news or bad news?
When you finish your homework, I'd love to hear what you learned. Please use the form on the right side of the page to let me know. If you have questions, and I love questions, I want to know that too!
-Christie
…
Hi, I'm Christie Saas, current Executive Director, past board member, and non-profit volunteer. I remember well, those early years when I lacked the training, the confidence, and the work-life balance to focus on becoming the best non-profit leader I could be.
Fast-forward past many bumps in the road, lessons learned, and you'll find me still in the trenches, but a little wiser, a little calmer, and a whole lot happier. I love my work and I want to help you love yours too.
I created ChristieSaas.com so non-profit leaders never need to feel alone. I'm here to help. If you're a brand-new non-profit leader, or a little more seasoned, someone who's looking to make a meaningful contribution and still have time for a full life away from the job, you're in the right place.
© Christie Saas 2023 All Rights Reserved
…
Want to learn more?
Start with one of my free resources.
---